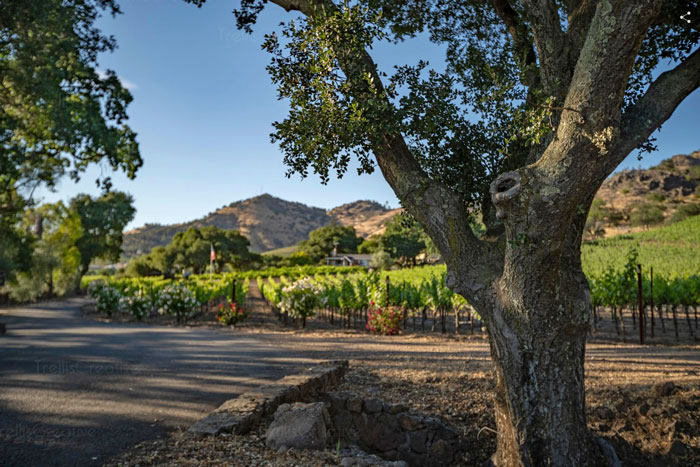 Just a mile off the Silverado Trail, but worlds away from the everyday. Spend some time with the family
We are proud that Robinson Family Vineyards remains one of the increasingly rare family-owned and operated wineries in Napa Valley. Our 78-acre estate in the famed Stags Leap District of Napa Valley lies tucked among rolling hills of vines, and backs up to the Palisades rising up directly behind us, with the winery built into the mountain slopes.
A visit to Robinson Family Vineyards promises a memorable encounter with at least one, or sometimes all, members of the Robinson family. We host seated tastings either in the tasting room or on the lawn area, which is surrounded by large, ancient oak trees, lush vineyards and dramatic geological rock formations. Each tasting includes four of our current-release wines. All of our wines are limited editions, as we produce only a few dozen to a few hundred cases of each.
We invite you to join us and enjoy some fine wine, warm hospitality and a bit of family lore in this idyllic setting we've called home for more than 50 years.
Cost is $55 per person, $65 per person for groups of eight or more. Fees are waived with the purchase of four or more bottles per person/couple, or with a Wine Club membership (minimum one-year commitment).
or call 707.944.8004
In accordance with Napa County regulations, our tours and tastings are available by appointment only.
---
Napa Valley, Family Style
After retiring from the U.S. Army as a Lieutenant Colonel in 1967, Norman (Bud) Robinson and his wife Helen (Dinky) Robinson, purchased 78 acres in Napa Valley. Convinced by friends and neighbors, including wine-industry pioneers Nathan Fay and Father Tom Turnbull, of the great potential of the site, they gave up their horses and cattle and planted the first grapes on the property in 1970. They joined the Home Winemaker's Association and, from that, Robinson Family Vineyards was born.


Over the years, Bud's passion for growing high-quality fruit from which to craft world-class wines became the banner under which the family marched. For daughter Susie Robinson Jinks, to whom the estate was passed in 1998, and her husband Tom Jinks, retirement would look much like her parents'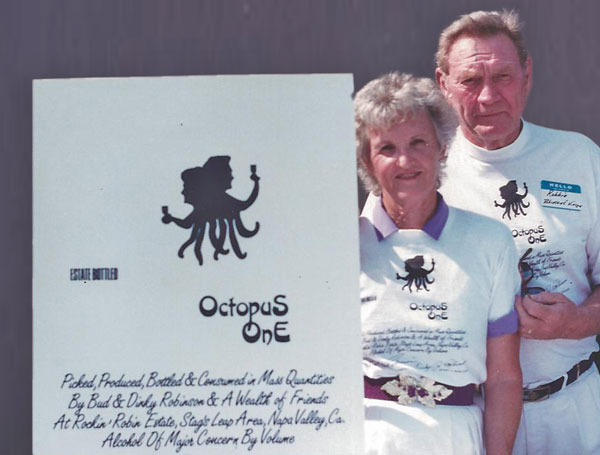 retirement: focusing on the everyday operations of the family estate full-time, with all the dirty hands, sore backs and number crunching that came with it. These are the same values that Susie and Tom instilled in their three daughters—Carrie, Kim and Robin—who also work at the winery. And the hope is that one day, the girls' eight children will continue the legacy created by Bud 50 years ago.
---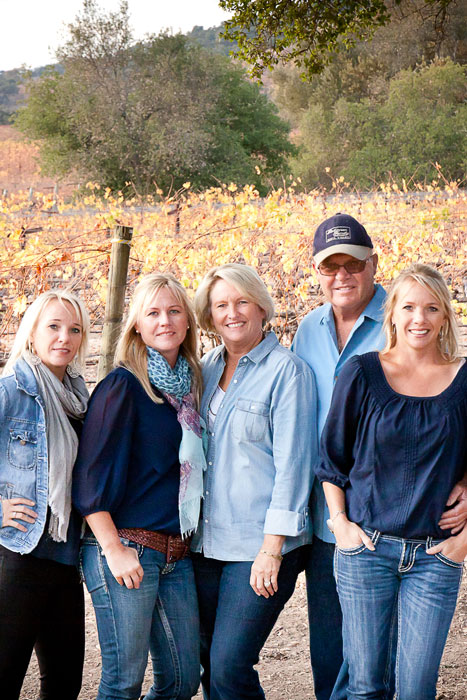 The Team
Tom & Susie Jinks
With her father, Bud, an officer in the Army, Susie spent her early childhood in motion, living in Japan, Bolivia, South America,  Texas, Oklahoma and Washington. When Bud retired to Napa Valley, she began working in the vineyard and the winery alongside him. Tom, a Napa Valley native, began helping out in the vineyard in high school when he began dating Susie, and the two married in 1971.
Susie and Tom each enjoyed a 25+-year successful career, in real estate and as a contractor, respectively, before "retiring" to run the vineyard and winery. Today, Tom is the Robinson Family Vineyards' winemaker, vineyard worker, cellarmaster and resident storyteller. Susie is the CEO, CFO and human resources director.
Carrie Robinson Francoeur
The eldest of Tom and Susie's three daughters is a graduate of California Polytechnic University with a major in Agricultural Business. Carrie manages day-to-day office operations, including hosting tours and tastings, managing events and overseeing the RFV wine club, and assists in harvest, winemaking and production. When she is not at the vineyard, you will undoubtedly find her at her sons' sports games or enjoy golfing, glamping and traveling.
Kim Jinks-Whipple and Robin Jinks-Yates
The twins, Kim and Robin, both graduated from Chico State University with degrees in Physical Education. Kim has two children, including the only girl among Susie and Tom's eight grandchildren, and Robin is the mother of three boys. Kim and Robin enjoy helping where needed with tastings, events, harvest and production at the winery.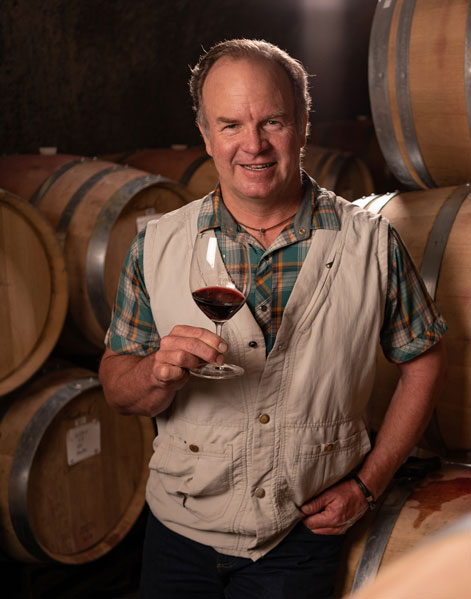 Kristof Nils Anderson
Consulting Winemaker
Day-to-day winemaking responsibilities fall to Tom, but he is happy to take cues from celebrated consulting winemaker, Kristof Nils Anderson, who has worked with the Robinson family for more than a decade. Kristof likens his role here to that of composer, helping to harmonize Robinson Family Vineyard's acclaimed Bordeaux blends to pitch perfection. Known for the way tannins "dance" in his wines, Kristof's attention to detail, both in farming and blending, captures the purity of our estate fruit, and ensures complexity and aging potential of our wines.  "I'm a very non-interventionist winemaker and prefer to have these wines speak of this special piece of land and of Stags Leap District," he explains. 
Former winemaker at Lewis Cellars and protégé of winemaking legend Nils Venge, Kristof has crafted a broad range of acclaimed, ultra-premium wines in the Napa and Sonoma valleys since 1992.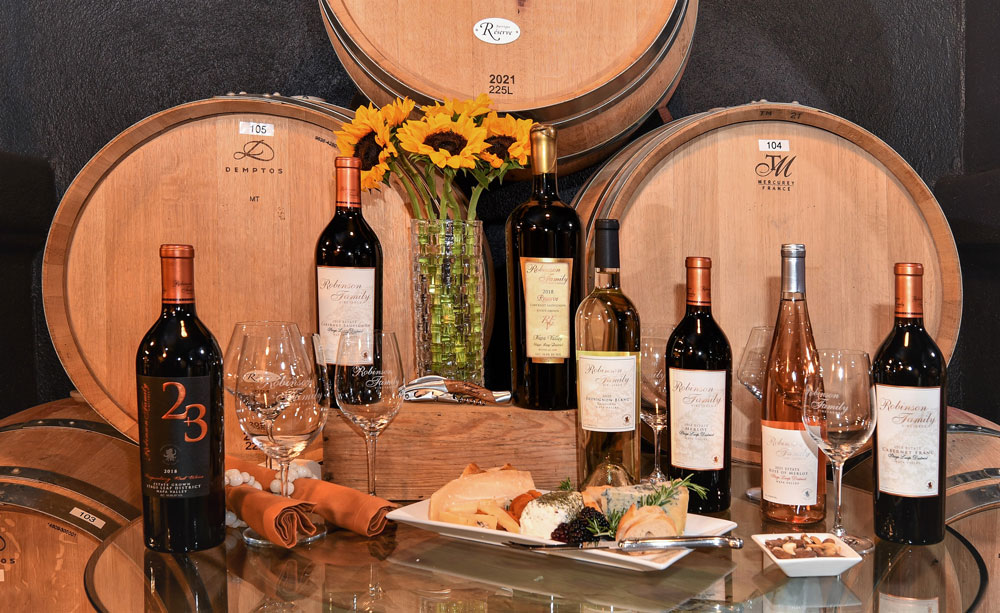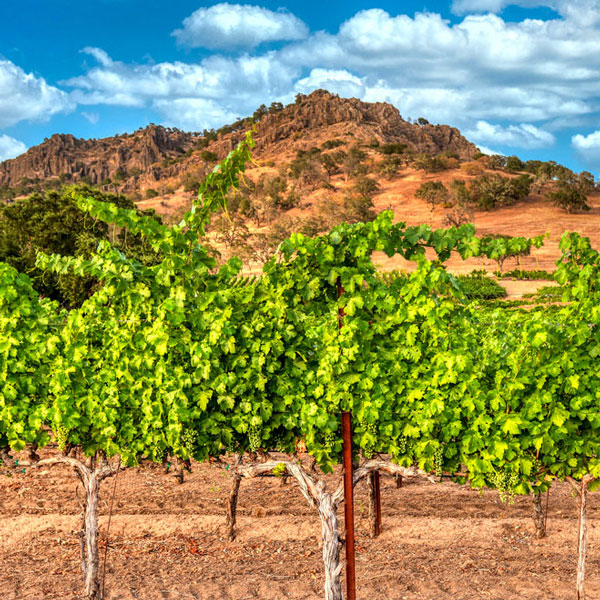 The Vineyard & Wines
Robinson Family Vineyards is located on the eastern edge of Stags Leap District, a tiny region with a huge reputation for Cabernet Sauvignon. Neighboring vineyards are owned by Joseph Phelps Vineyards, Stags' Leap Winery and Steltzner Vineyards. Our estate is built against the rocky cliffs of the palisades, which reflect the heat of the sun onto the vineyards below. Late afternoon, the same cliffs and hills funnel the cool, marine air from the San Pablo Bay through the area. This combination results in a longer growing season—perfect for Cabernet and other Bordeaux varietals—which allows the grapes to achieve an optimum balance of acid and sugar, and the resulting wines a supple balance and elegance.
Our hillside vineyard is planted to the five classic Bordeaux varietals: Cabernet Sauvignon, Merlot, Cabernet Franc, Malbec and Petit Verdot.  Our philosophy is to let the character and purity of this fruit shine in the finished wine. The fruit is harvested in small lots so that we can pick the fruit at exactly the ripeness we want. The fruit is crushed into small, open-top fermenters, with by-hand punch downs performed daily until the wine has fermented completely dry. Only the juice that is free run or from a gentle press is put into barrel. The wine ages here for at least two years, with regular racking and topping to keep the wines clean, and then ages another two years in bottle before release.
The winery, which is built into the side of the mountain, houses not only our estate-grown wines but a deep retrospective Stags Leap District wines from decades past.
---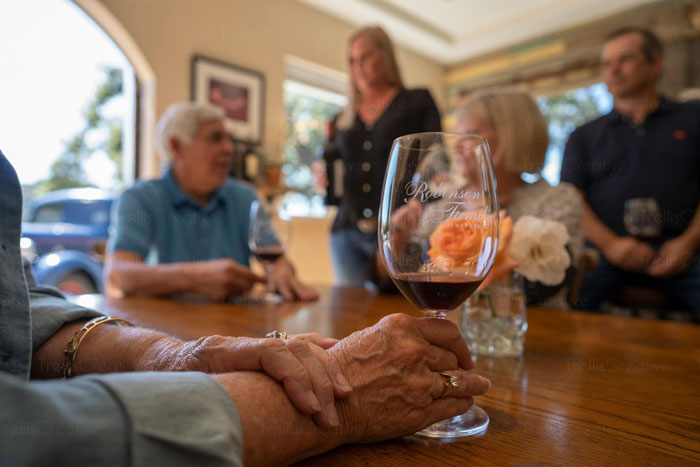 Join the club, welcome to the family!
Club membership not only ensures you access to our limited-production new and library releases, but other perks.
As a member of the RFV Wine Club, you'll enjoy
two shipments a year (April and November)
10% off club shipments and all other wine purchases
complimentary private tour/tastings for up to four people
access to library wines
invitations to private events at the winery, such as our twice-yearly club member pizza parties
other special offers
The April shipment features new releases, including the estate Cabernet Sauvignon. The November shipment is a mix of library and current releases, and also includes the Estate Cabernet Sauvignon.
There are two levels of membership available: four bottles per shipment or six bottles.
There is no fee to join, but we do require a two-shipment (one-year) minimum.
---
Check out our Spring and Fall Newsletters